Stafford Day Choir
Stafford
Tuesday 10.15am (for a 10.30am start) - 12.00pm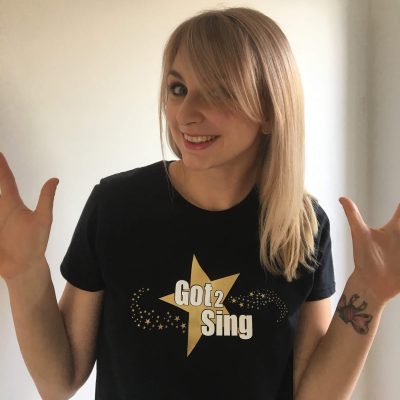 Stafford Day Leader:
Olivia Thomas
View Profile
Join our Day Choir in Stafford – Got 2 Sing Local Choirs
Do you enjoy singing, socialising and performing? If you are looking to join a day choir in Stafford, we have a local adult choir which is open to everyone!
We meet every Tuesday, 10.15am (for 10.30am start).
You can sign up for a Free Taster here  (check term dates here).
The Choir is a lovely thing to be part of and we are lucky as we happen to have an excellent teacher!

Caroline, Got 2 Sing Choir Cheltenham
I'm no good at conversation or small talk, but with Got2Sing I have found my voice! The satisfaction gained from performing a song having learnt the (correct!) words, tune and a few simple movements makes me feel like I have had a stimulating conversation with a whole room full of friends!

Catherine, Got 2 Sing Choir Hereford
I cannot express how fantastic it is to be able to sing along with well known songs at the top of my voice and not annoy the neighbours (and husband). Beth instills such enthusiasm and knowledge in such a fun way which makes it a delight. I would recommend anyone who loves music to come and join us.

Christine, Stourport – Got 2 Sing Choir Bewdley
The excitement is infectious. One of the best decisions I ever made was joining your wonderful choir, so many fabulous opportunities are coming our way all the time. Thank you so much for coming into our lives, gosh I'm getting quite emotional now! And just realised its my one year anniversary this month of being in the choir. Here's to many more!

Helen, Got 2 Sing Choir Wolverhampton
Thank you Got2Sing, without you I wouldn't have met my dear friend! It truly is a family full of fantastic people where life-long friendships have been formed and I love being part of it.

Hilary – Got 2 Sing Choir, Stourbridge
Got 2 Sing is fun and friendly while at the same time expecting and achieving the best possible! Such a professional approach to singing – I've learned so much!

Hilary, Got 2 Sing Choir Worcester
Just wanted to thank you for all you are doing with the choirs. I feel that you are making a huge difference to peoples lives, you can see the difference in people each week, growing in confidence, changing and so on. I am really enjoying the performance side because we are singing songs with such powerful lyrics which can move an audience . I also think that singing in this way, as you teach it, with power and inspiration has the potential to change people physically and emotionally.

Judy – Got 2 Sing Choir Bewdley