Gladstone Wilson – Choir Leader for Sutton Coldfield & Lichfield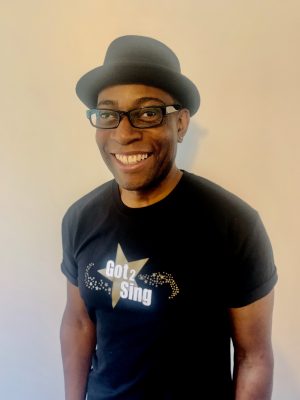 Gladstone Wilson
Music has been Gladstone's passion since childhood, playing gospel music in church at the tender age of just 8, playing at a wedding aged 10 and his first recital aged 11.
Gladstone, known to everyone as G, then went on to study at The Royal Birmingham Conservatoire, graduating with first class honours. He then went on to gain valuable experience in the music industry playing alongside artists such as Bobby Womack, Tracey Chapmen, James Moody and Eternal, to name but a few.
G's passion for music extends to all areas of the arts. As well as a pianist, composer and producer he is also a vocal coach and has worked with contestants on Pop Idol and The X – Factor.
He has a great love for musical theatre and has musically directed many professional, amateur and theatre school productions – one of his most favourites being Into The Woods.
G has come full circle as he is now a vocal coach and composer on the Applied Theatre course at The Royal Birmingham Conservatoire, where he first began his training, in addition to being a singing teacher for various theatre schools.
His belief is that music and singing should be accessible to everyone and for the past five years has built up a community choir bringing a wide genre of music to the masses.
He feels blessed that his passion is also his profession and loves to work with a variety of people on a weekly basis. G met his partner whilst working in the arts. She is a teacher, director and choreographer and they live in Staffordshire with 3 children between them. It's a very musical household to say the least!
"I am excited to begin this new and exciting chapter and cannot wait to be part of Got 2 Sing Choir."