Ruth Roberts – Choir Leader for Harborne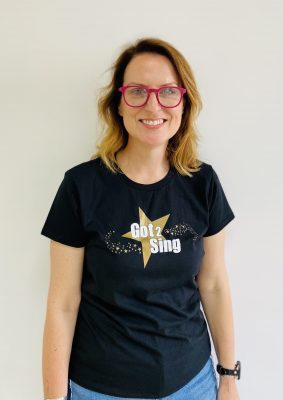 Ruth Roberts
Choir Leader for Harborne
The only way to describe Ruth is as a true music lover!! Her musical experience basket is overflowing – from post graduate training at Birmingham Conservatoire to her post as Head of Vocal for the Music Service in Birmingham for nearly 20 years, Ruth lives, eats and breathes all things singing!
Ruth's passion for making music accessible is clear with her department reaching over 17,000 children each week, of all ages and levels of vocal ability – and if that weren't enough she manages a wide variety of large events to ensure all those children get the opportunity to show off their skills and talents.
In 2005 Ruth was awarded the prestigious Winston Churchill Research Fellowship for her work with young singers. She travelled throughout North America visiting Children's Choirs to identify excellence in practice. 
When not delivering, singing, arranging and organising music across the Midlands you might find Ruth on holiday with her family, sipping something cold next to a pool with her head stuck in the latest Jack Reacher novel!
She is excited about joining the Got 2 Sing Team and developing contemporary repertoire with members for singing events and sing outs.
'I've sung in a huge variety of choirs throughout my life and the pleasure singers get from hearing and feeling the collective sound when they perform is the key to great concerts. At Got 2 Sing its value added, you can have a slice of that feeling every week in rehearsals too.'