10 Years of Singing, Friendships and Fundraising!
Friday 17th September 2021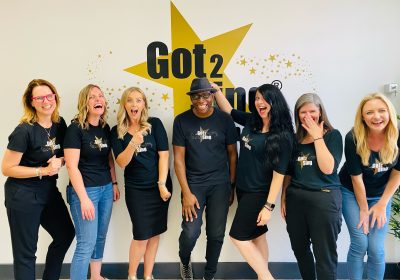 It seems only 5 minutes since 'Got 2 Sing' first opened its doors in Stourbridge, yet the reality is 10 years on Wednesday 15th September!
Since then, the contemporary choir has been lighting up the lives of hundreds across the Midlands, from its members to the public at large, whilst raising thousands for charity in the process.
The Choir first opened its doors on 15th September in 2011 by local businesswoman Beth Dunn. Beth was running a junior singing, dancing and acting group called 'SuperTroupers' having trained at the London School of Musical Theatre. Parents began asking if they could do something similar – 'Glee' became popular on TV and Gareth Malone appeared on the scene too, adding to the popularity of choirs. Beth launched Got 2 Sing in Stourbridge in response. An incredible 90 people walked through the door on the first night and it has since gone from strength to strength.
The Stourbridge Choir is just one of 17 Got 2 Sing Choirs now – and they span the Midlands, with a team of 8 Choir Leaders, from as far and wide as Lichfield and Worcester to Cheltenham to Telford.
The choirs remain family-run – something which Beth believes helps to ensure quality and friendliness remain a constant.
Despite the recent set-back of Covid, Beth has been overwhelmed by the growth of the choirs over the last ten years, "More and more people were discovering the many health and social benefits associated with singing and when faced with the pressures of modern day living, the choir offered that much needed escapism for people. Choir delivered that 'feel good' factor that everyone needed plus it was a wonderful way of making new friends. Then the pandemic hit but we were not going to be beaten despite not being allowed to meet up. It was the one time when choir was perhaps needed most by everyone – that camaraderie, the wider sense of 'community', social inclusion and belonging, and so we took the choir on-line – for 18 months! Also, it certainly was a pleasant surprise to see people pop up from not just from across Europe – Italy, Germany, Portugal, Spain, Greece, Switzerland and the Ukraine but people joined us from across the globe – Malaysia, America, Iran and South Africa – such was the benefit of online."
Like many in the performing arts sector, they are now bouncing back and are determined to put Covid behind them with a new and enthusiastic outlook as they start their new September term – and members are already returning in their hundreds.
It will not only be about their 10th Anniversary celebrations though – it will also mark the beginning of rehearsals for their 2021 Symphony Hall concert. The prestigious Birmingham venue is a favourite with the Choirs and next year will mark their fifth appearance there.
Fundraising also plays a big part of choir life – to date Got 2 Sing has raised over £125,000 for various charities through concerts, sing-outs and fun charity events and their performances have helped raise awareness and money for charities such as 'Ladies Fighting Breast Cancer' in support of Birmingham's Queen Elizabeth Hospital's Cancer Unit and local Hospices.
Anyone can pop along from 7.30 – 9.00pm for a free taster this week. A full list of the West Midlands Choir locations – Stourbridge, Wolverhampton, Bewdley, Sutton Coldfield, Worcester, Bromsgrove…can be found on their website – www.got2sing.co.uk