From the comfort of
Your own home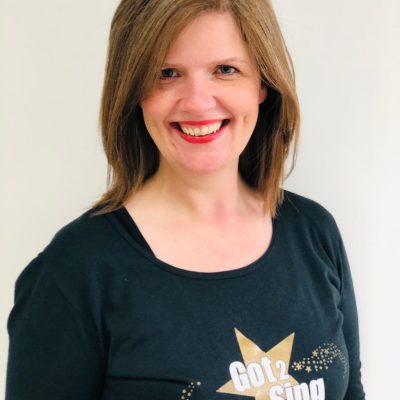 Got 2 Sing Online Leader:
Theresa Pearson
View Profile
"Got 2 Sing Online Choir is the perfect feel-good remedy! I love it"
WHY JOIN GOT 2 SING ONLINE CHOIR? Our virtual choir is the ultimate at-home singing experience and a chance to improve your well-being! Develop your love of music and find your singing voice wherever you are in the world at a time that suits you!
SUPER FUN
ENERGISING
AWESOME SONGS

Our wonderful choice of songs are designed to get you finding your voice and learning how to sing better – all under the guidance of our expert vocal teachers.
HOW TO GET INVOLVED?
If you are a complete beginner or a seasoned pro – we encourage you to come a try us out for FREE! Don't worry, we teach by ear so you don't need to read sheet music.
All you need is a computer, phone/ tablet – it's that simple, your choir leader will provide the rest.
To take part simply BOOK YOUR FREE TASTER SESSION HERE.
WHAT TO EXPECT
A high-energy hour and a half of singing fun!  Our virtual sessions are filled with laughter, and of course loads of singing!  From top of the charts to golden oldies – there's something for everyone!
Under the expert guidance of your Choir Leader, you will learn how to find your voice, sing in harmony and perfect breathing skills and vocal techniques.  But don't worry, your voice won't be heard on its own. You will be able to hear your Choir Leader and a live choir of all the songs to help guide you.
You have access to a huge range of learning resources so the singing never needs to stop!
Become a part of our special singing community.
Our head office is always on hand to take your call if you have any queries. Call us free on 03330 146 164 and we'll be happy to chat!
Join us and trust the magic of new beginnings.