From the comfort of
Your own home
Monday 8:00pm - 9:00pm GMT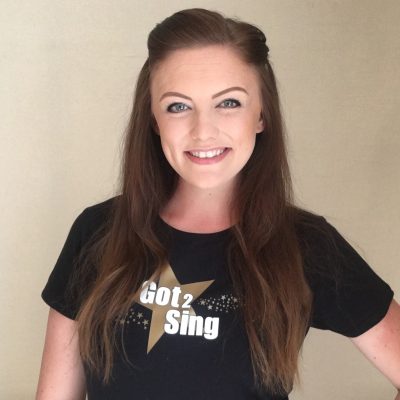 Got 2 Sing Online Monday 8:00pm - 9:00pm GMT Leader:
Cassie Abbott
View Profile
Online Choir Monday 8:00pm – 9:00pm
Got 2 Sing Online 
Mondays 8:00pm GMT via Zoom
Here at Got 2 Sing Online we believe the joy of life is all about people – not places. We have worked hard to create the best online experience there is, to get you singing, wherever you are in the world!
This is a time when we particularly need to look after our well-being and it is proven that singing makes you feel great. We are bringing the Got 2 Sing experience to anyone who wants to sing, laugh, meet new people and become part of our special singing community.
Whether you are stuck at home, looking for something to brighten up your Monday evenings, want to make new friends, or just need to de-stress and take some 'me' time… Got 2 Sing Online is the perfect feel-good remedy!
We are proud to have some of the UK's top choir leaders championing our communities.  All leaders are experts in the field and bring the best choir experience right to your home. All you need is a computer, phone or tablet! We provide the rest! We invite you to try us out for FREE! To take part simply BOOK YOUR FREE TASTER SESSION
The session lasts 1 hour and is filled with fun, laughter and of course loads of singing!  From top of the charts to golden oldies – we are all in!  No sheet music, no experience required. Got 2 Sing Online learns a selection of songs each month – so there really is something for everyone. Under the expert guidance of your leader you will also learn how to find your voice, sing in harmony and perfect breathing skills and vocal techniques!  We are passionate about turning even the most novice of people into confident singers!
Don't worry, your voice won't be heard on its own! But you will be able to hear your Leader and a full vocal recording of all the songs you are learning. You'll be able to see all the other Got 2 Sing Online members on your screen too and we'll give you plenty of chances to have a chat so we all get to know one another!
You also have access to a huge range of learning resources and opportunities to join in with existing Got 2 Sing Online events – so the singing never needs to stop!
Our head office is always on hand to take your call if you have any queries. Call us free on 03330 146 164 and we'll be happy to chat!
Join us and trust the magic of new beginnings.