The Wilfred Owen School
Monkmoor Campus, Woodcote Way
Shrewsbury
SY2 5SH
Wednesday, 7.15pm (for 7.30pm start) - 9pm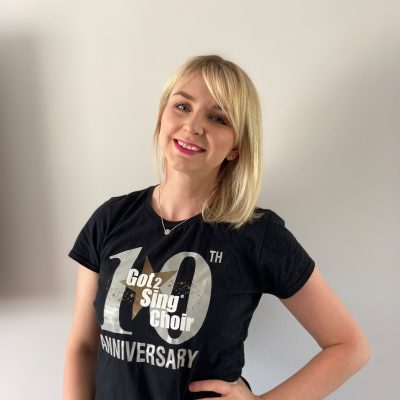 Shrewsbury Leader:
Olivia Thomas
View Profile
Join our Choir in Shrewsbury – Got 2 Sing Local Choirs
Do you enjoy singing, socialising and performing? If you are looking to join a choir in Shrewsbury, we have a local adult choir which is open to everyone!
We meet every Wednesday, 7.15pm (for 7.30pm start).
You can sign up for a Free Taster here  check term dates here).
Our choir in Shrewsbury offers many opportunities for you to perform at events across the county and the Midlands. Places we have performed at include Weston Park, Attingham Park, Big Busk Shrewsbury, Greenfields Farm, Isle Estate Bicton and Birmingham Symphony Hall. You can view upcoming and recent events in Shrewsbury and across the Midlands here.
The choir brings so much joy to my life. I've made so many new friends and love our local performances. Joining has been the best thing I've done!

Alison, Got 2 Sing Choir Shrewsbury
Simply the highlight of my week! Just what the doctor ordered. An evening of laughter, fun and singing. Love the relaxed friendly environment!

Janet, Got 2 Sing Choir Shrewsbury