Emma Hatton – West End Workshop
Saturday 28th November 2020
10:30am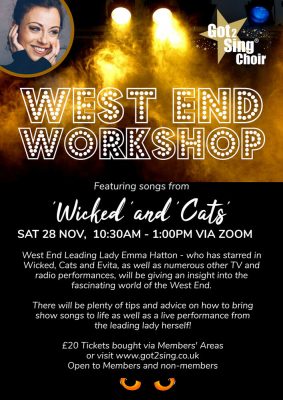 Emma Hatton has amassed a huge fan base in the world of stage, having starred in the West End as Eva Peron in Evita, Elphaba in Wicked and Scaramouche in We Will Rock You. She performed the lead role of Grizabella in Kilworth House Theatre's revival of 'Cats'. Her reputation as a Leading Lady has led to invitations to appear on This Morning – during which she both performed Defying Gravity and collected the Olivier Award on behalf of Wicked – and the Andrew Marr Show. On radio, Emma has been a guest artist on BBC Radio 4 Woman's Hour, BBC Radio 2 Live and the Elaine Paige Show. In 2018, she had the honour of being chosen to perform as Eva Peron in the BBC documentary celebrating 40 years of Evita.
Emma is so excited to be working alongside Got 2 Sing Choir to produce this exciting workshop. Attendees will get an insight into the fascinating world of the West End with plenty of tips and advice on how to bring show songs to life as well as a live performance from the leading lady herself.
Songs featured from Wicked and Cats.
Lyrics and Zoom link sent separately