Got 2 Sing Choir – 'Grease' Masterclass
Saturday 27th June 2020
10:30am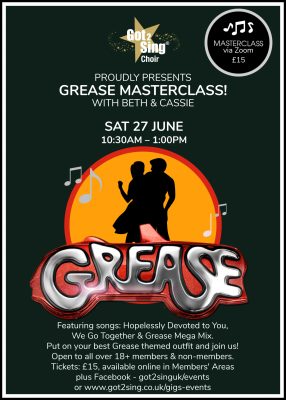 Got 2 Sing Choir proudly present – 'Grease' Masterclass by Choir Leaders Beth & Cassie
Join us for a high energy Masterclass filled to the brim with the best of songs from 'Grease' including Hopelessly Devoted to You, We Go Together & Grease Mega Mix.
You will learn vocal, performance and choreography techniques along the way, so if you LOVE the film and want to belt out these feel-good songs, then this Masterclass is for you!
Put on your best 'Grease' themed outfit, grab your friends and join us!
Open to Got 2 Sing Choir members and non-members aged 18+
£15 per person. Zoom link will be accessible just before the event