Got 2 Sing Choir Presents… Pub Choir
Friday 25th November 2022
7:30pm
Harleys Madhatters (aka Harleys Smokehouse) , 39a Dunsley Road, Kinver, DY7 6LU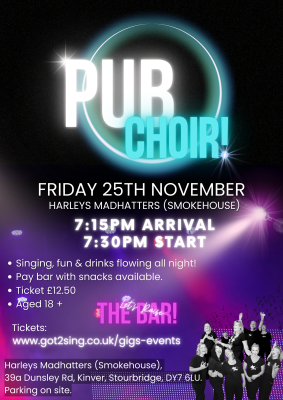 Got 2 Sing Choir presents;
We're SO excited for this!
Our two favourite things combined:
🍺 🎶 PUB CHOIR 🍺 🎶
🗓 Friday 25th November
⏰ 7:30pm start
📍 Harleys Madhatters (aka Harleys Smokehouse) 39a Dunsley Road, Kinver, DY7 6LU
An evening hosted by Got 2 Sing Choir, learning the most anthemic, belt-out, bar-raising songs!
Singing, fun & drinks flowing all night.
Pay bar with awesome cobs & bar snacks available.
📍 Harleys Madhatters (aka Harleys Smokehouse) 39a Dunsley Road, Kinver, DY7 6LU
Get your tickets here