Got 2 Sing Choir – QUEEN MASTERCLASS
Saturday 9th February 2019
10:00am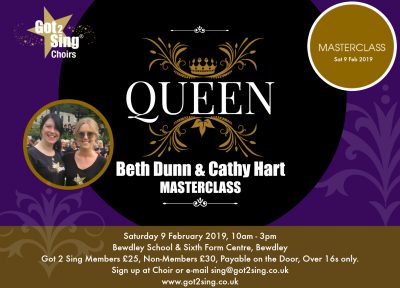 Do you love QUEEN?
Have you seen the recent Bohemian Rhapsody film?
Do you want a whole day belting out some amazing Queen songs?!
YES!? Then join us!
Open to members and non-members!
Simply turn up with a packed lunch and wear comfortable clothing – we provide everything else!
It will rock you!! Sign up at choir or e-mail sing@got2sing.co.uk £25 for Got 2 Sing members, £30 non-members – payable at the door. Over 16s only.