Got 2 Sing Choir Supports Comic Relief
Monday 11th March 2019
7:30pm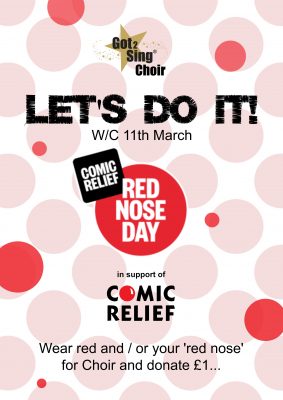 Got 2 Sing Choir proudly supports Comic Relief's 'Red Nose Day!'
w/c 11th March, at all choirs we will be wearing red clothes, red noses, red hair….anything goes as long as it's red! Oh and we would like our members to make a £1 donation at choir in support of this very worthwhile cause!
Red Nose day officially takes place Fri 15th March so all Got 2 Sing Choirs, across the Midlands will be participating w/c 11th March for the whole week.
We look forward to seeing how red everyone can go!
Come and join in the fun and enjoy a Free Taster in the process!