Got 2 Sing Choir Supports Macmillan's World's Biggest Coffee Morning
Monday 23rd September 2019
All Choir Locations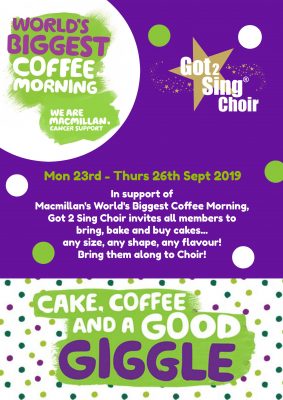 Our wonderful Got 2 Sing members will be baking and buying and singing in support of this wonderful cause. The event is a firm favourite amongst our members…and it's a choir night where calories aren't counted!
In support of Macmillan's World's Biggest Coffee Morning – their biggest fundraising event for people facing cancer – Got 2 Sing is once again inviting all its members to get baking and to bring along cakes to choir during the week from Mon 23rd – Thurs 26th Sept.
Any shape, any size, any flavour – all cakes are welcome…but we're also relying on our wonderful members to buy some too!