The Great Big Christmas Got 2 Sing – Along
Saturday 19th December 2020
5:00pm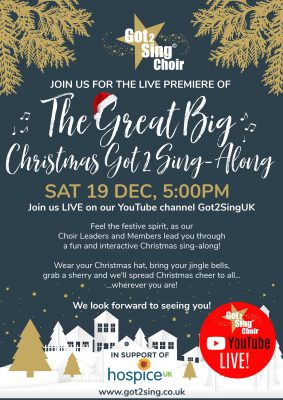 Join us for the live premiere of The Great Big Christmas Got 2 Sing – Along in support of Hospice UK.
On Saturday 19 December at 5:00pm,
click here
and feel the festive spirit. Join our Got 2 Sing Choir Leaders and Members for a fun and interactive Christmas sing-along!
Wear your Christmas hat, bring your jingle bells, grab a sherry and we'll spread Christmas cheer to all… wherever you are!
We look forward to seeing you