Got 2 Sing Celebrates World's Biggest Coffee Morning in Kidderminster!
Friday 29th September 2017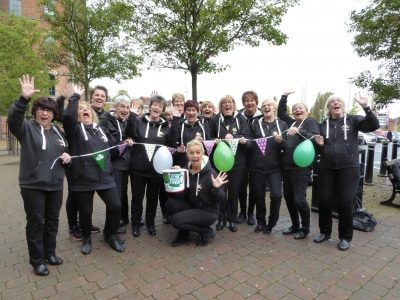 If you happened to have been in Kidderminster on Friday 29th September then you may have heard the joyful sounds of 'Got 2 Sing.'
Fifty choir members sang to help raise awareness for the World's Biggest Coffee Morning organised by MacMillan Cancer Support. Shoppers dug deep into their pockets to support the charity, and the sun shone so there was plenty to smile about!
First stop was Weavers Wharf where the crowds were treated to 'Happy Together' and 'Love Runs Out' amongst others, in beautiful 3-part harmony, before the choir moved round to the Town Hall to deliver more harmonious renditions. It was then a dash to down a well-earned coffee at Kidderminster's new 'Riverside' development, with more singing on the way!
A whopping grand total of over £1500 was raised for the charity – from the town centre sing out and cake sales which had been held across all the Midlands Got 2 Sing choirs in the last week.
Beth Dunn, Director and founder of Got 2 Sing, commented, 'Our members have been busy baking and singing this week and I'm thrilled that we have raised so much for this most worthy charity. With our concert recently at Birmingham's Symphony Hall which raised an amazing £8500 for Worcester Breast Unit Haven this pushes our charity fundraising over 5 years to over £100,000 – which is an incredible amount.
Peter Michael Town Centre Manager for Wyre Forest, stopped by to express his thanks to the choir and said they would be made extremely welcome at any time!