Got 2 Sing Choir Recognized by a Real Dragon!
Thursday 21st February 2019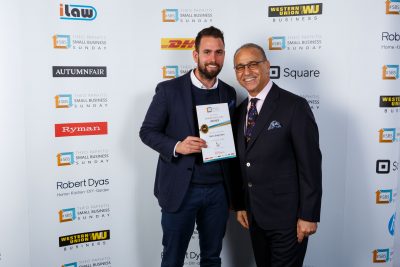 Legendary entrepreneur, businessman and former Dragons' Den star Theo Paphitis recently picked local Got 2 Sing Choir as a winner for his #SBS winner award.
SBS, is a weekly competition whereby thousands of tweet entries are reviewed by Theo personally and from which a final six are selected to feature on his website…as well as being re-tweeted to his 500,000+ followers! Over 370,000 people have submitted an entry to #sbs and less than 1% have 'won' to date.
Got 2 Sing were one of thousands of entries where you have to describe your business in one tweet in the time slot 5.00 – 7.30pm on a Sunday evening. On a Monday night at 8pm the entries are reviewed and Theo chooses his favourite six – and Got 2 Sing Choir was lucky enough to be picked as one of the winners!
Jim Pycraft – Managing Director of Got 2 Sing Choir attended the annual #SBS winners' follow up event at Birmingham's ICC on Tuesday 12th February to collect their certificate.
Jim commented, "We are delighted to have been recognised by Theo for the service we provide. We truly are a choir with a difference, offering quality teaching, upbeat songs and generally creating a wonderful community sprit across all ages for both ladies and gents! We make a difference to people's lives! Becoming a winner with #SBS is a massive boost for us and helps build our profile further!"
On his website, Theo writes, "My vision is that everyone who has ever won an #SBS re-tweet from me becomes part of a friendly club. Like-minded individuals can share successes and learnings."