Amanda Bonsall – Choir Leader for Lichfield, Sutton Coldfield and Castle Donington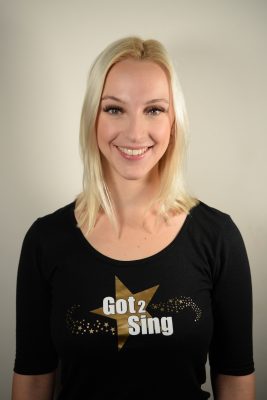 Amanda Bonsall
Choir Leader for Lichfield, Sutton Coldfield and Castle Donington
Having always had a passion for singing from a young age, Amanda achieved her Diploma in Singing Performance from Trinity College London at 17 before starting her music degree at The Royal Birmingham Conservatoire in Vocal and Operatic Performance.
Growing up, Amanda was a dedicated member of 'Voices – The City of Derby Girls' Choir' for many years, touring across Europe and singing in some of the worlds most renowned venues including Notre Dame, Cologne Cathedral, Florence Cathedral, St Vitus Cathedral and York Minster. Within the choir they would enjoy singing anything from Monteverdi to Michael Bublé!
During her time at The Conservatoire, Amanda enjoyed being a part of the choruses and playing roles within the seasonal operas and opera scenes, working alongside various acclaimed musical directors and singers. Now, Amanda is part of local Derbyshire & Nottingham Operatic Societies, who regularly perform productions at Derby Theatre, Buxton Opera House and Harrogate Theatre.
Despite having a keen interest in the classical voice, Amanda is just as enthusiastic about contemporary and popular music. She also has a love for jazz and has sung with local jazz ensembles and big bands. She teaches singing privately in the Music Studio at her home in Castle Donington.
Amanda is incredibly excited to be a part of the fantastic team at Got 2 Sing Choir and feels very privileged to be working alongside such an amazing team of leaders! She loves sharing musical experiences, journeys, and adventures with her choirs every term.