Beth Dunn – Founder & Choir Leader for Stourbridge & Wolverhampton Choirs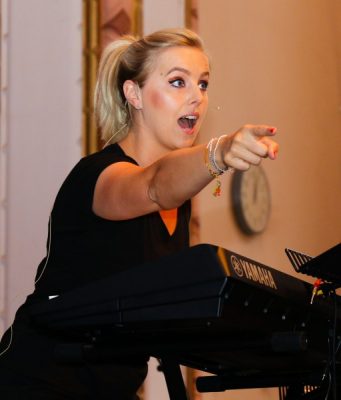 Beth Dunn
The Story
When asked amongst My Mum's friends "what's on your bucket list?" almost everyone simply answered that they missed the feel-good factor of singing. The last time most of them had sung was in their school choir! This sparked an idea!
At this time I was fresh out of Drama School and had set up a successful Performing Arts School for children in Stourbridge and I thought it was time to do something for adults!
I wanted to create a fun environment, build an adult choir who would sing modern songs whilst having a strong community spirit. There just wasn't anything like this in the area!
September 2011 saw the opening of my first Got 2 Sing Choir Stourbridge for adults and it was an unprecedented success – clearly joining a choir was on a lot of people's bucket lists!
I am incredibly passionate about providing a quality experience, creating great songs and most importantly giving our members outstanding platforms to perform.
I now have an incredible team behind me, who I know are just as passionate about our vision. I'm filled with complete pride when I see members all across the Midlands performing our songs, raising huge amounts for charity and seeing the life-long friendships formed. Never in my wildest dreams could I have imagined just how popular Got 2 Sing Choir would become!
Creating the music and producing our concerts is my passion. My commitment to Got 2 Sing Choir is to continue providing exciting and fresh opportunities so that our members join us on this incredible journey for many years to come!
Performance Diploma from London School of Musical Theatre
University of Leeds (BA Hons Music Theatre)
Qualified Teacher (QTLS) in Further Education