Beth Dunn – Founder & Creative Director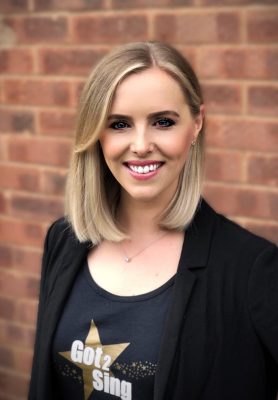 Beth Dunn
Founder & Creative Director
The Story
If anyone asks me what I would like to spend every day of my life doing, my response is simple, "encourage everyone to be as passionate about singing as I am." Having sung in choirs from an early age, I am fascinated by the power of music and its ability to inspire, up-lift, restore and bring people together in an extraordinary way.
Having graduated from university and drama school with a BA Hons in Music Theatre from the University of Leeds and a Performance Diploma from London School of Musical Theatre, I was keen to share my passion with others.
Drawn back to my roots, I began teaching music at colleges in the Midlands and set up a performing arts school for children. All around me, adults would encourage children to be involved in creative arts because of how important it is for their development and well-being. It was clear to me that creativity is just as important for adults too and so ideas began to spark!
I knew I wanted to create a premium experience, with high quality musicality, outstanding teaching, exciting performance opportunities and a strong community spirit.
In September 2011 we opened our first Got 2 Sing Choir in Stourbridge and 96 people walked through the door! It was an unprecedented success – clearly telling us that adults were keen to get together and share the joy of singing.
I am incredibly proud of our team, who work hard to ensure our vision becomes a reality and it fills me with pride to see our members perform our arrangements to such a high, professional standard. The friendships they've forged and compassion they've shown helping raise huge amounts for charity is heart-warming. I never imagined just how popular Got 2 Sing Choir would become, and I am so thankful to every single person onboard our adventure.
My commitment to Got 2 Sing Choir is to continue to provide new and exciting opportunities so that our members remain on this incredible journey for many years to come.