Cassie Gardner – Social Media Rockstar & Choir Leader for Wolverhampton, Redditch & Got 2 Sing Online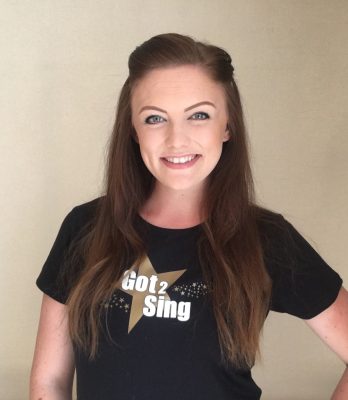 Cassie Gardner
Social Media Rockstar & Choir Leader for Wolverhampton, Redditch & Bromsgrove
Singing has always been a big part of Cassie's life. Her whole family sing, and at family gatherings it can be quite a musical production!
Originally from Hastings, Cassie was involved with local amateur dramatic shows and music festival competitions. At 16 she had achieved her Diploma in Musical Theatre from the London College of Music and graduated college with a A-Levels in Music, Drama and Performing Arts.
After working at a holiday park for a while and teaching singing part time, she knew it was time to reach for bigger things. An audition in London for a well-known cruise liner company was the first step to a whole new life.
Fast forward 7 years and she has had the opportunity to travel the world singing and dancing as part of a show team onboard several ships in hundreds of musical productions, shows and cabarets as well as solo performances, working with some amazing musical directors and production teams along the way.
After falling for a Brummie onboard in 2013, she now lives in the Midlands with him and their two boys, and has continued to teach singing at home. Now, joining Got 2 Sing Choir, she's incredibly proud to be working with such a great team of leaders. Choirs quickly became a passion of Cassie's whilst onboard the ships, and she's incredibly excited to help create those delicious harmonies within the Got 2 Sing family and is looking forward to opening her choirs in September.
"There's nothing quite like an ensemble of singers coming together after a long day, using a part of the brain they didn't know existed, and walking away from the evening with a completely different energy. It's magic!"