Singers Support World's Biggest Coffee Morning
Friday 30th September 2016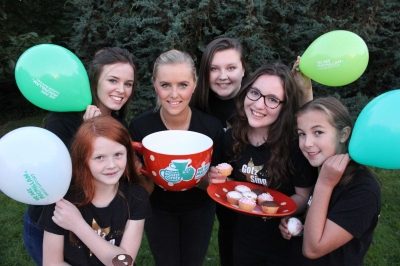 If you happened to be in Stourbridge town centre on Friday 30th September then you may have heard the joyful sounds of local Stourbridge based choir 'Got 2 Sing.'
Some 40 choir members will sang to help raise awareness for the World's Biggest Coffee Morning organised by MacMillan Cancer Support. The choir members 'toured' coffee shops around the town to help promote the event and promised a song in exchange for a donation to the charity!
Beth Dunn, Director and founder of Got 2 Sing, commented, 'The Coffee Morning is a fantastic initiative by MacMillan and a fun way to raise funds. We wanted to draw as much attention for it as we could by doing what we do best – singing! We also held cake sales across all of our choir too to boost funds even further and raised just over £1500 in the process!"
Photo: Stourbridge Got 2 Sing Choir Leader Beth Dunn with Youth Choir Members Aimee Woodcock, Stephanie Dipple, Charlotte Baker, Natasha Smith and Hannah Davies preparing for the World Biggest Coffee morning…and testing the cakes!
See more photos in the Gallery Section