Singing Safely Together This September
Monday 2nd August 2021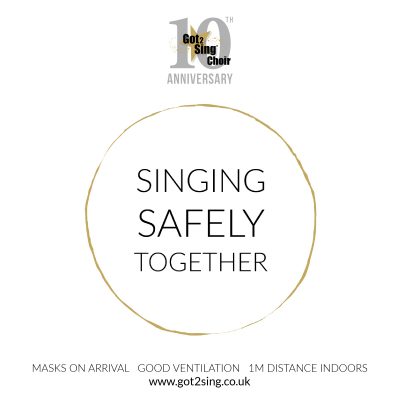 We are THRILLED to announce that Got 2 Sing Choir is back this September as we knew it! We are ready and raring to go and cannot wait to get back to doing what we love! Our Choir Leaders can't wait to welcome everyone and get singing!
New term starts week commencing Monday 13th September 2021. Join us now or book your free taster session. Hurry, some choirs have limited numbers!
With the removal of restrictions upon us, we are so looking forward to sharing the music, the beautiful harmonies, the laughter, the companionship and the memories that only come from being a part of a choir.
Your safety always in mind…
Got 2 Sing is committed to making our rehearsals a safe place where Members can feel comfortable. For everyone's peace of mind, the sessions will be socially distanced with additional measures in place such as extra ventilation to ensure that we can enjoy the wonderful feeling of singing together indoors again. Our journey to "normality" is going to be slow and steady but we have LOTS to look forward to!
Please note, you will not be required to sing in a mask, but you are welcome to should you wish.