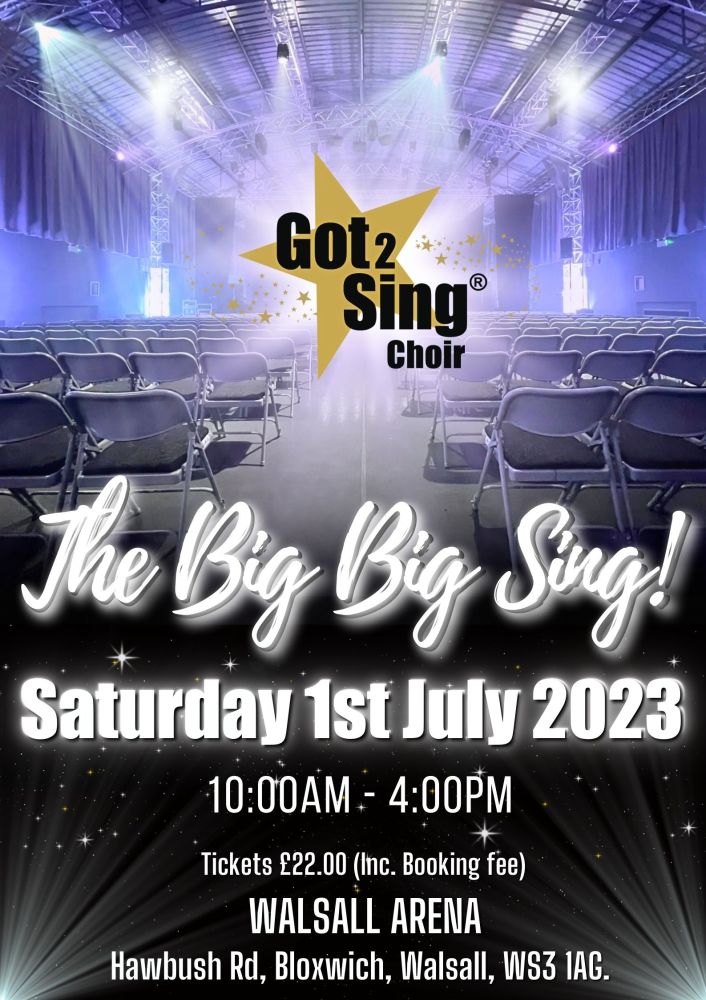 The BIG BIG SING……………is exactly what it says on the tin!
Your Got 2 Sing Choir experience but much, MUCH bigger!
The energy of your Leader times x 7!!!
The buzz of your choir x 14!!!
On Saturday 1st July Got 2 Sing Choir will descend on Walsall Arena and fill this amazing state of the art venue with lights, cameras, action and more importantly YOU!!!!!!!!!
A day not to be missed as we add polish, pizzazz and the inimitable Got 2 Sing Choir personality to film our amazing new songs from 2023.
You've heard the phrase "two heads are better than one" well imagine the benefit of combining the knowledge and skills of 7 Leaders in one room with 100's of voices! And you can be assured of a truly unique and epic day of singing like no other!
And if that weren't enough……you'll be treated to brand new energisers, warm-ups, games and a new and one-off song for the BIG BIG SING that will encourage the best from you and leave you feeling invigorated and energised.
A day filled with joy, laughter, enthusiasm, friendship and singing is what is on offer, and we cannot wait to share it with you!
Be bold, be brave, be brilliant. Be a part of the BIG BIG SING with Got 2 Sing Choir!
TICKET INFO: On your Members' Area
#thebigbigsing