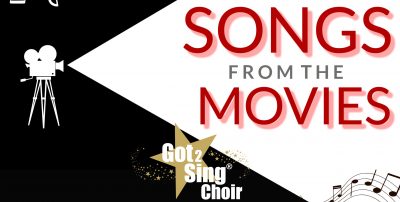 Lights! Camera! Action!
Got 2 Sing Choir presents… Karaoke G2S Style: Songs From The Movies Session
After the success of our first Karaoke night, we would love you to join us on Zoom for another evening of group karaoke, Got 2 Sing Style!
Keeping you singing throughout the holidays.
Head to your Members' Area to vote for the songs that will feature on the night and get ready to belt out your favourite songs from movies with your choir buddies.
You might even feel like dressing up as your favourite film character or movie star! Go for it!
Zoom link via your Members' Area.